In JC "Bel-Plast International" Ltd., the winners of the contest "the Man of the Year" are determined by the results of 2019
On the eve of a professional holiday - Chemists Day - JC "Bel-Plast International" Ltd. annually determines the winners in the contest "the Man of the Year", who have made the greatest personal contribution to the development of the production, who are actively involved in its public life, who have achieved significant results in professional activities.
The First Deputy General Director Velikina Zhanna won with a majority of votes in the nomination "Best Leader" for professional leadership, creation of a team of like-minded people and high organizational skills. Velikina Zhanna received the diploma in this nomination for the second time, the first was in 2015.
The best employee in the nomination "Master of her craft" has become Shakur Zhanna, Deputy General Director for personal, legal and ideological work, for the ability to work productively and efficiently with a sense of responsibility for the task entrusted, a conscientious attitude to the performance of official duties and the achievement of positive results in work.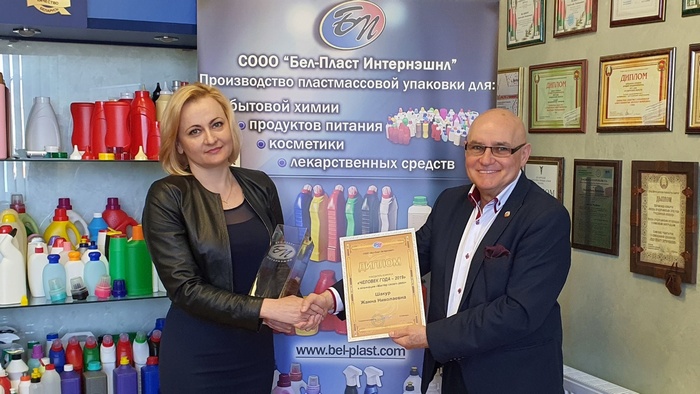 For many years of impeccable and conscientious work, the diploma of the "Veteran of the Company" was deservedly given to Tkachuk Tatyana, stacker-packer of the 4th category.
The management of the enterprise and the members of the competitive commission unanimously decided to award additional letters of encouragement for professionalism and skill the controller of polymer materials of the 4th category Lisovskaya Anna and storekeeper Enko Alexander Anatolyevich within the competition.
The noted employees were awarded with diplomas, certificates, valuable gifts - vases with the logo of JC "Bel-Plast International" Ltd. and cash prizes were paid.
Also, all the employees of the enterprise were awarded for their professional holiday - Day of the chemist.